What to know about cruises
It is about time to book your next holiday and some of your family or friends might have told you about their cruising experience, maybe enthusiastically or maybe discouraging you a little and making your holiday choice more complicated. But what does cruising mean? A cruise is, first of all, a holiday is a holiday, where the first destination you choose is the ship and then the one you choose to visit during your holiday. Have you ever thought of visiting 3/4 sometimes 5 or even more destinations in the same trip? If you have thought about it, the only answer you can get is a cruise. in fact, only with a cruise you can see, for example, seven Caribbean islands in just seven days, only with a cruise you can enter the Norwegian fjords and comfortably sit on the chair of the balcony of your cabin, admire what is not visible from the mainland or depart from Venice leaving St. Mark's Square behind and then sail to the Adriatic and dock in the Greek islands without even realizing it.
So if you haven't taken a cruise, you won't know that you'll be the one to choose which cabin to sleep in, opting for internal cabins, without windows and therefore cheaper, or choose a cabin with sea view with or without balcony. If you are a demanding type of person you can choose whether to stay in a suite or even in a loft or a garden villa depending on the ship you choose. Moreover, if you have never taken a cruise before, you will not know that all food is always included in the price at all hours of the day and night and that you will only pay for drinks unless you have purchased a drinks package that allows you to have those included. But that's not all, if you've never taken a cruise, you won't know that every time you arrive at a port you can decide whether to get off the ship independently and visit the destination as you prefer or buy an excursion that will allow you to have everything organized. If you decide to stay onboard most of the onboard entertainment services are included such as gym, theatre, entertainment activities are all included. Only activities related to personal care (massages, beauty treatments, hairdressing, etc. ..) and shopping in shops onboard are excluded.
If you're traveling with children and you've never been on a cruise before, you won't know that if they're under 12 they never pay and that when they're on board they'll be able to attend the mini-club free of charge all day with other children of their age and highly qualified staff to take care of them.
How to choose the cruise line and type of cruise
So now how to choose a cruise? How do I understand the major differences between the individual cruise lines? What itinerary? And then how to choose the cabin? Which offer best suits my needs?
These are the most common questions among those who have never taken a cruise and who usually seek answers in a travel agency or online. On these pages, we hope to be able to help clarify and provide answers.
Which cruise line to choose?
Currently, the cruise world sees 4 major players on the world scene plus several smaller independent cruise companies. In order of importance and size (both in terms of passengers and sales) they are:
Carnival Corporation which includes: Carnival Cruise Line, Costa Cruises, Holland America Cruise, Aida Cruises, P&O Cruises (UK), P&O Cruises (AU), Cunard, Princess, Seabourn
Royal Caribbean International which includes: Royal Caribbean Cruise Line, Pullmantur, Azamara, Celebrity Cruises, CDF, Island Cruises, Tui Travel Plc.
Star Cruise which includes: Star Cruises, Norwegian Cruise Line.
MSC without acquired brands
In addition to these brands, other smaller brands are added to the wider range of shipowners on the market, representing small specific market niches such as luxury and destination cruises and river cruises.
So, with this small introduction, the question remains: which company do I choose?
Let's start with the fact that on this page we will talk about maritime ones.
For the Italian market, this is what we are addressing in these pages, certainly, the choice is limited to many fewer brands, especially for the language spoken onboard Italian. MSC Crociere and Costa Crociere make their Italian origin a strong commercial influence. Norwegian Cruise Line and Royal Caribbean have been selling on the Italian market for many years now (i.e. with embarkations from Italy) since they guaranteed staff in Italian, security announcements, menus to restaurants in Italian, Italian television, and guided tours in Italian.
For us Italians (who are a linguistic minority) it is very important to be able to use our mother language on a cruise, not only for the playful and refreshing aspects but also for all that concerns the official communications made on board.
In addition to the language spoken on board, the fact that Italy is a peninsula overlooking the Mediterranean makes it a country rich in ports and this facilitates boarding, sometimes you embark right "at home".
So if you are a first-class cruise passenger, and you are Italian, we feel comfortable pointing you to a choice made between Costa Cruises, MSC, Ncl, or Royal Caribbean. All of them guarantee the Italian language on board and embark on many Italian ports.
However, if you are comfortable with English then your choice is wider and extends to all the other companies with the only drawback that they will have few or no departures from Italian ports to Mediterranean destinations.
In terms of prices, Msc and Costa are equivalent, Royal Caribbean and NCL are positioned in a higher price range.
How to choose your cabin
First-time cruisers will find that they have to choose not only the ship, the itinerary but also the cabin, and even its exact location.
All cruise lines tend to differentiate the price of their cabins by type and location. The more common rule is the lower the cabin, the lower the price, the higher the cabin, and the higher the price, regardless of the type. Besides, the type affects the price but the wrong choice also influences the experience that the future passenger is preparing to make
In fact, in many cases, cruise passengers are only influenced by the price of the cabin, and this can often ruin expectations and consequently in some cases prevent the cruise as a subsequent holiday.
We will give you a clear view of things so that you can make your choice with greater serenity.
Trying to exemplify the macro-categories of cabins are:
Internal Cabins

External Cabins

Balcony Cabins

Suite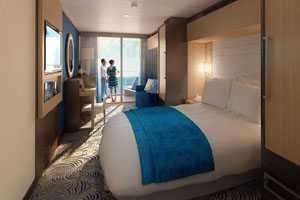 Internal Cabin (with an image that looks like the outside. Only on RCCL)
External cabin with a window
Balcony cabin
Suite
These four macro categories originate according to the company that we choose. They have different names from each owner, but which in fact can be traced back to one of the four mentioned.
In addition to the type as we have said cruise passengers also have to choose the position. So the mix of the two choices made with the greatest certainty will be the key to the success of the future holiday.
Summarizing the following table, it could be a practical guide to choosing:
| Choosing a position | Pros | Cons |
| --- | --- | --- |
| Bow | Cabins sometimes with frontal view | Cabins exposed to the wind. Uncomfortable in case of balcony |
| Middle | Close to the elevators and easily accessible to the most important parts. The role almost non-existent | Noisier because of the elevators and passengers passing by and the possibility to hear the vibrations or noises coming from the funnels. Expensive. |
| Stern | Cabins protected from the wind | if located on low decks may be affected by the propulsion noise of the ship. |
| High | Most exclusive cabins with breathtaking views if external | Expensive and likely to feel a lot the role of the ship in case of rough sea |
| Low | More protected from noise and less likely to feel the roll of the ship. | If in very low decks they can hear the noises of the engine and the common parts dedicated to the crew |
| Cabin selection | Pros | Cons |
| --- | --- | --- |
| Internal | Cheap. Suitable for a more experienced and aware cruise passenger. | No external outlet is not recommended for those suffering from claustrophobia. |
| External | The right compromise of price and quality to have an outside view | Cabins with windows that can never be opened |
| External with balcony | The uniqueness of the habitable balcony makes it possible to have a unique experience exclusively on a cruise holiday, completely facing the sea. | Expensive cabins |
| Suite | Complete with all comforts including butler and staff available 24 hours a day. Better positions. | Very expensive cabins |
The choice of the cabin will partially affect your holiday if you have made a choice that is not appropriate for your usual way of doing a holiday.
If you are a traveler, meaning that you do not want to stand still for a second, that you will participate in as many activities as possible that the ship offers you, then if you are not claustrophobic choose an interior cabin, you will spend little and enjoy all the comforts of the other cabins, but since you will always be out in the cabin you will just sleep there. If you can't stay without at least one window of your room, then an outside cabin with a window or porthole will do. Remember that portholes and windows are sealed and cannot be opened in most cases.
If you are on your first cruise or perhaps celebrating an anniversary or an event, then the cabin with a balcony will give you a unique feeling to you and your fellow travelers. The balcony is overlooking the sea so if you suffer from vertigo and choose a high deck you may not fully enjoy the experience and then opt for a lower deck. If you don't have this kind of problem, then a balcony at the top will make you feel like a king. You can enjoy breakfast on the balcony every morning in complete privacy and with a view that in most cases will leave you breathless. No hotel room by the sea will ever give you these sensations.
If, on the other hand, you're a bit of a fussy, demanding, and perhaps a little bit of a megalomaniac, then the suite is suitable for you in every way. Better locations, better service, in some cases exclusive services such as reserved areas, reserved spas, and reserved restaurants. In this case, it should be noted that there is no limit to the luxury you can find cabins from 50 square meters. up to cabins of 300 or more square meters. real apartments on the sea. The suites are not only suitable for those who want more but also for those who have a large family and therefore in a suite is the right size to spend a holiday with the right living space.
Also, keep in mind the following tips:
1. If you suffer from seasickness, the ideal position is a central cabin on very low decks.
2. If noise-sensitive avoids central cabins
3. Do you want everything easily accessible or for mobility needs you need elevators? choose a central cabin on a higher deck. Everything will be at your fingertips
4. You want to enjoy the best view, choose the cabins (almost always are suites) at the perimeter corners of the ship and you will enjoy a 180° view